Off-grid systems for India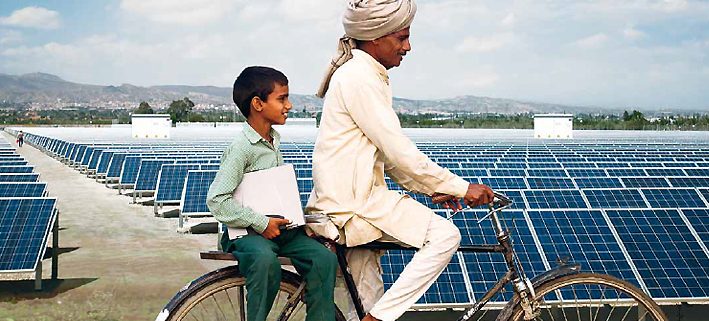 Workers who earn only a few Euros a day and managers who stay in hotels for a couple hundred Euros a night. Streets filled with busses, brightly colored trucks, rickshaws, cows and the occasional Porsche Cayenne. Giant skyscrapers amongst a sea of tin shacks. And everywhere dirt and dust. Volker Wachenfeld, Vice President of Off-Grid Solutions at SMA, and a sales colleague experienced firsthand how worlds are colliding in India – one rich and one poor. What impressed the team the most was the friendly disposition and easygoing nature of the Indians, and their astronomical consumption of diesel fuel.
I talked to Volker about his trip and his impressions.
India needs more energy
The electrification rate is 60 percent in India with 80 percent in cities and 40 percent in rural areas. Similar to China, India is starved for more energy as more and more people move to massive cities and the industry and service sectors grow at a rapid pace. The state of the country's energy supply stands in stark contrast to its strong economic growth. In many rural areas electricity would be a core prerequisite for clean water, education, health care and economic development. And the power grids in cities are not especially stable. Power outages are a common occurrence here.
Burning imported oil
The lion's share of energy in India comes from fossil fuels, mostly crude oil or diesel fuel. It is estimated that diesel fuel is used to generate more than 58 gigawatts of electricity here. And, as in the past, fuel imports are subsidized. This makes it not very expensive for a user to run a diesel generator the whole day (set to low) – even when power is not needed and system efficiency is poor. But that will soon change once the subsidies are gone. It is time to make diesel systems more efficient and to convert to photovoltaic power in some areas. An increasing number of companies are therefore relying on new approaches for solving India's energy problems.
Backup and off-grid systems as an alternative
"Rather than have a diesel generator run non-stop, it is much more efficient to incorporate one in an off-grid system with battery inverter and storage backup," explains Volker Wachenfeld. "In this system the generator runs at nominal power and the inverter stores energy in a battery. Once the battery is full, you simply turn the generator off and the inverter will provide the stored energy. As a result, operating times are kept at a minimum." Other advantages of the system: Users can easily add alternative energy sources such as photovoltaics and are also protected from power outages thanks to the availability of stored power.
High requirements in an interesting market
Volker Wachenfeld and his team have already implemented a number of off-grid projects with SMA India, including a village power supply system in the northern part of the country. This system generates electricity for small villages with ten 10 kW power units. Based on his experience Mr. Wachenfeld knows that the climate in India can vary greatly and ranges from dry heat to high humidity and occasionally even snowfall. Hence the requirements for an energy system are very high. "This is where our strength lies," says Mr. Wachenfeld, "and our components have much lower maintenance requirements than diesel systems."
All in all Mr. Wachenfeld felt the trip to India was a success. "There is more going on in India than I expected and the topic of climate protection is slowly gaining interest. And of course what is very interesting for us is the supply-driven growth opportunities of this market, which are very rare nowadays."
https://www.sma-sunny.com/wp-content/uploads/2012/05/Inder-vor-Solarpark-1.jpg
378
709
Catrin Nähr
/wp-content/themes/enfold-child/images/SMA-LOGO-Color_s-1.png
Catrin Nähr
2012-05-29 14:03:55
2012-05-29 14:03:55
Off-grid systems for India