Obama's Climate Push Demonstrates Boldness and Determination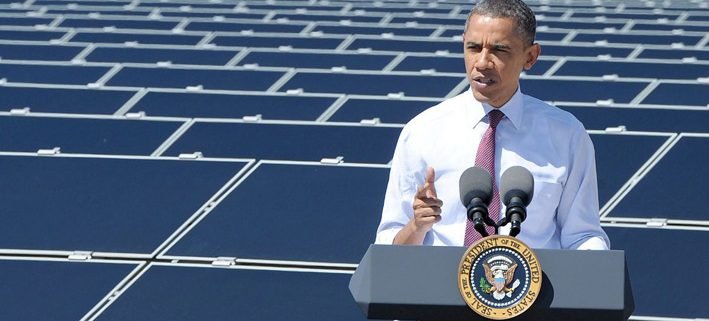 With his Clean Power Plan, President Barack Obama is promoting the energy transition in the U.S. and taking the lead—rhetorically, at least—on international climate protection. In doing so, he is taking decisive action primarily against those great perpetrators of harm to the climate, the operators of coal-fired power plants. Although Europe is a long way ahead of the U.S. in the fight against climate change, heads of state and government in this part of the world can learn a thing or two from the way in which Obama has taken this step—with boldness and determination in the battle against CO2 emissions, even in the face of resistance.
In American terms, Obama's plan is truly ambitious. According to the new requirements, U.S. power plants with carbon dioxide emissions, which have been entirely unregulated to date, would have to reduce their pollutant emissions by 32 percent from 2005 levels, by 2030. Should these intentions become reality, reports the New York Times, hundreds of coal-fired power plants would have to close.
Industry and Republican camps call for opposition
Naturally, the plan has drawn criticism as a result. Industry associations and Republican members of Congress from states with strong energy industries have already voiced their opposition. They fear the low energy prices that represent a distinct location-based advantage over European companies.
Obama counters that he wants to reduce costs for new energy technology and help low-income households. Measures from his government program provide for that aim. Renewable energies such as solar and wind energy are also to receive subsidies.
Renewable energies are a cost-effective alternative in the long term
Whether electricity costs will actually rise with the reduction in CO2 emissions is questionable in any case. As the costs involved in purchasing PV systems and the associated storage technology fall, photovoltaics, for example, is already a more cost-effective alternative for generating power independently in many regions of the world.
What most probably constitutes a much more powerful driver behind the protests emanating from the Republican camp is the fact that, as freedom-loving Americans, they have a fundamentally skeptical attitude to any and all government intervention. This is the only explanation for the resistance to Obama's health care reform as well.
In this context in particular, Obama's climate push appears determined and bold, even if many elements of the media accuse him of focusing solely on his own success and his place in the history books.
Taking Obama as an example?
We can only wish that more heads of state and government would take such a clear position on climate protection in their own countries and not crumble at the first sign of opposition from the "old industries," as recently demonstrated in Germany by Sigmar Gabriel, Minister for Economic Affairs and Energy.

Despite Obama's position, the chances of mandatory climate targets being finalized at the forthcoming world climate summit in Paris are slim, as any agreements will in all likelihood not be binding under international law. However, perhaps  Obama's 

President Obama on America's Clean Power Plan

target="_blank">"Memo to America" will help to spur heads of state and government into action.

President Obama on America's Clean Power Plan

Will Obama succeed? What do you think?