Magic: A Sunny Central in Many Small Parts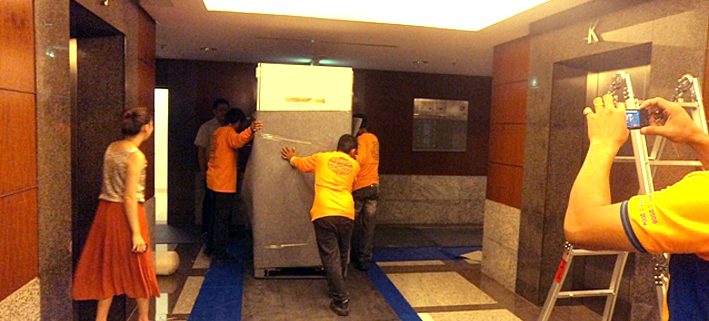 In mid-November 2011, SMA Thailand introduced the latest Sunny Central model, the 800 CP, to its Thai customers for the first time at the Solar Academy Training Center. The display area for the Sunny Central 800 CP was on the 17th floor of Central World Shopping Centre in Bangkok.
The Planning Team
A team was set up to coordinate all parties involved including external partners such as contractors, building officers, transportation companies, and of course, internal team members from SMA Thailand's Service, Administrative and Logistics departments who planned the event together.
Disassembly required for Removal
In February 2012, once the interior work of the SMA office was complete, the process of getting a permit to allow the Sunny Central into the building began. A member of the building's Facility management completed the inspection and said that a raised floor made of 9-mm steel was needed to support the weight of the inverter. As a result, the room had to be made bigger, but this was only the first challenge. As the Sunny Central 800 CP is extremely large it didn't fit in the elevator and so it had to be dismantled. However, the service team had no previous experience with the Sunny Central 800 CP so they asked Germany's service team for a manual to help planning the disassembly. Three trial moves were conducted as training, using a mock-up inverter of the same size. Each move involved more than 10 people, including experts from transportation companies and SMA employees. During this process, it was required that the insurance also cover the six-months installation period.
With the practice move complete, the Sunny Central 800 CP was taken to a warehouse in Samutprakarn, 19 km from the Bangkok office for disassembly, and while it took four days it was a success.
Reassembly of the Sunny Central 800 CP
The move began near the end of August and it took three trips to transport the entire machine, each of which took around one month. The first round was a trial run to move the smallest parts from the interior of the machine, followed by the outer components and then the outer casing. It took three hours for each trip. The second and third rounds were for reassembly with the final round in September. Following each trial move, a building inspector conducted a week-long inspection to ensure the machine was structural sound.
Completion
Through every phase of the project – from the very beginning, through the stimulations, to the actual installation – the careful planning, preparation and collaboration of the team of experts and employees from every department ensured success. The Sunny Central is up and running on 17th floor of Central World …we did it!
https://www.sma-sunny.com/wp-content/uploads/2012/11/5_ready-for-the-lift-1.jpg
378
709
Leonie Blume
/wp-content/themes/enfold-child/images/SMA-LOGO-Color_s-1.png
Leonie Blume
2012-11-15 08:41:54
2012-11-15 08:41:54
Magic: A Sunny Central in Many Small Parts