How a regional SMA training center is imparting PV knowledge in East Africa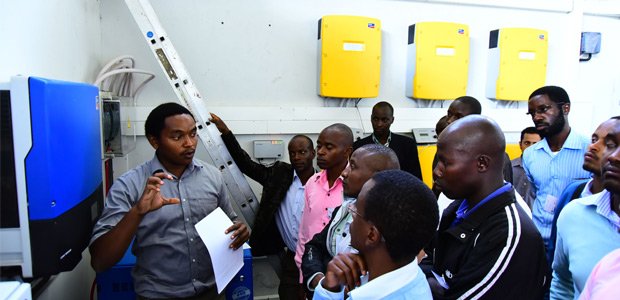 Small- and medium-sized grid-tied renewable energy systems have recently created interesting investment opportunities in Kenya. Electricity tariffs ranged from 0.14 US$/kWh for large industrial consumers to 0.226 US$/kWh for normal household consumers in December 2014. As the market segment solar PV grows, the main question for both utility companies and investors is the possibilities of reducing cost of power production and its maintenance.
Profit from PV knowledge transfer
To face these challenges, Strathmore Energy Research Center at Strathmore University, Nairobi, Kenya (Madaraka) launched a Training Academy in cooperation with SMA. In June 2015, the first Hosted Solar Academy in East Africa began training engineers from different parts of East Africa in fuel-saving technology, providing expertise and advanced training tailored to participants on SMA solutions.
"Kenya is a power hungry country, but access to electricity is very low," said Strathmore Director Professor Izael Da Silva. "There are two main barriers to the uptake of modern types of energy: the standard of quality of energy products and capacity building. By setting up the East Africa SMA Training Academy, we have managed to address both problems. On the one hand, SMA products are of long-lasting quality, while on the other, the Academy is fully furnished in terms of equipment and trained personnel to provide technicians and engineers with state-of-the-art knowledge on solar grid-tie, hybrid solar/diesel and off-grid systems. We are now able to respond to the needs of Kenyans irrespective of their geographical position and power requirements."
The first training sessions took place during the German Solar Training Week organized by Deutsche Gesellschaft für Internationale Zusammenarbeit (GIZ) and AHK in November 2015 at the Strathmore Business School.
The practical session included a visit to the Strathmore Energy Research Center (SERC) and a look at the different SMA inverters. Engineeer Evan Kimani explains how they work.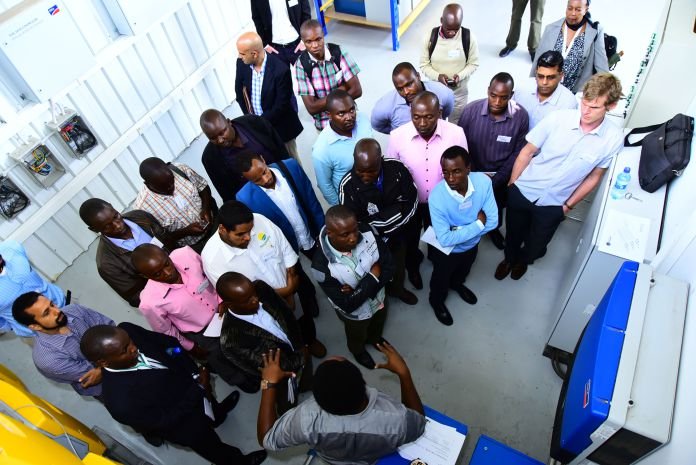 Such training will result in capacity-building cost efficiency in the production and maintenance of power. "The training was useful and enhanced my solar skills. After the training, I felt more comfortable in commissioning the SMA Multicluster-System 12, we have recently ordered. I look forward to attending more training sessions in the future," said Jesse Wainaina, from the company Knights and Apps Ltd. in Nairobi.
Facilitators in the Academy are working closely with engineers from SMA Germany and SMA South Africa. The German Cooperation and the United States Agency for International Development have also played a significant role in capacity building, especially in organizing vocational training. The training takes place at the SERC Lab and consists basically of training in the residential and commercial solar systems. Incidentally, women have also been trained on solar PV systems, as there has been a lack of women in the energy sector. The women are also shown how different inverters work. These training sessions took place in March with workshops and conferences including Women in the Energy Sector and Schletter Solar PV Mounting System Workshop held at the same time.
The Hosted Solar Academy in Kenya is a successful example of how PV knowledge can transfer to (East) Africa with the effect of improving the electrification of the local people through the use of renewable energy. Perhaps others will feel inspired to copy this best practice in other African countries or Sunbelt countries around the world…
What is the Hosted Solar Academy?

With the "Hosted Solar Academy" SMA supports local solar companies/institutions in setting up photovoltaic training centers. These training centers are hosted by renowned institutes, technical universities, schools for electrical engineering and private solar companies. SMA provides both training content regarding the PV industry and equipment for the training laboratories such as inverters, accessories and simulators for generators.

A "train the trainer" concept enables local trainers and lecturers to hold training sessions not only for their staff and students, but also for external PV installers, project developers and EPCs (Engineering Procurement Construction contractors). Through this, they are building a strong reputation as experts in the renewable energies sector and raising public awareness of the importance of renewable energies.
Find more information about the SMA Solar Academy on our website.
https://www.sma-sunny.com/wp-content/uploads/2016/06/HostetSolarAcademy-SMASolar-Kenya.jpg
300
620
Lucas Unbehaun
/wp-content/themes/enfold-child/images/SMA-LOGO-Color_s-1.png
Lucas Unbehaun
2016-06-08 13:30:05
2016-06-08 13:30:05
How a regional SMA training center is imparting PV knowledge in East Africa