Gamechanger: Storage systems are revolutionizing the energy landscape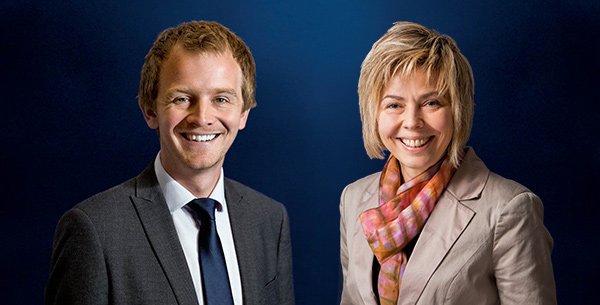 Renewable energies produce electricity when the sun is shining or the wind is blowing. But people need electricity whatever the weather, 24 hours a day. Is this an unsolvable problem? No, not at all. Because battery technologies are rapidly making progress. This is enabling more and more people and companies to save surplus electricity and use it later on – supplying themselves with solar power more or less independently. Exciting times for Sam Wilkinson, who heads the energy storage team at analysis company IHS, and Dr. Aleksandra-Sasa Bukvić-Schäfer, a storage system expert at SMA.
Battery-storage systems were a very marginal topic in the energy supply debate for a long time. Why are they now all of a sudden the object of such intense interest?
Aleksandra-Sasa Bukvić-Schäfer: Renewable energies are taking on an ever greater share in global electricity supply. This is a good thing as we must lose no time in becoming less dependent on energy sources such as coal, oil and nuclear power, which are harmful to the climate, hazardous and only available in limited supply. If this is to be a success, electricity from renewable sources must be calculable and readily available at all times. This is where battery-storage systems come into play. If too much solar or wind power is produced, these systems store the surplus electricity and release it systematically when it is needed. Storage technology has made enormous progress, in recent years in particular.
Sam Wilkinson: Yes, indeed, recent years have been very exciting. A number of new manufacturers have entered the market. As a result, costs have fallen dramatically and battery systems are already being used cost-effectively in some countries today. It is also interesting to note that more and more major car manufacturers are discovering the storage market for themselves.
In what sense?
Sam Wilkinson: The presence of major automotive companies in this space can only help to raise awareness and understanding of the benefits of storage. Clearly, these companies have very strong brands and established sales channels in the consumer space and  this will put them in a very strong position, particularly in the residential sector
Aleksandra-Sasa Bukvić-Schäfer: Let's take Tesla, for example. The announcement of the Powerwall battery triggered a downright run, and a large number of the potential customers had definitely never thought about generating and storing their own electricity before.
SMA has engineered a battery inverter to integrate the Tesla Powerwall into the system as the battery on its own is not sufficient, isn't that true?
Aleksandra-Sasa Bukvić-Schäfer: Exactly, with our new Sunny Boy Storage, we have the optimum means of integrating the Tesla Powerwall into household systems. It converts the direct current from the battery into alternating current for use in the household. It also ensures the intelligent charging and discharging of the battery. We have just brought the new solution to market. It is cost-effective, flexible and easy to install. Because it is AC-coupled, which means that the storage system operates in parallel with the PV system, the solution can be easily used in new as well as in existing systems.
But Tesla isn't the only manufacturer that SMA works with.
Aleksandra-Sasa Bukvić-Schäfer: With regard to car manufacturers, our partnership with Daimler subsidiary Deutsche ACCUmotive is important. Not only is Daimler a leader regarding their engagement in the field of stationary battery storage, but also regarding eMobility. We want to commercialize this topic also on a broad basis as soon as possible. And naturally, we work together with all reputable battery manufacturers as well. The decisive factor being that we are always able to offer our customers the most powerful battery at the lowest system cost. We therefore take an intensive look at the different technologies and marketing approaches.
What trends are you observing on the storage system market at present?
Sam Wilkinson: One of the most exciting trends for me is the bundling of energy storage systems in private and commercial systems to create what are known as virtual power plants. Up to now, it has been virtually impossible to use individual storage systems in such a way that they support the grid while also increasing PV system operators' self-consumption. Systematic usage of storage systems for both purposes is not possible without central management of multiple systems by a third party. This enables PV system operators to not only save on their electricity costs with their storage systems, but also earn extra money. This is a completely new business model that has only been tried out in a few markets so far. But contracts have already been signed for larger-scale future projects, in the U.S. for example. All in all, batteries are increasingly being considered for providing frequency regulation and other ancillary services to grid operators.
Aleksandra-Sasa Bukvić-Schäfer: This is also an important driving force behind large-scale storage systems in the multi-megawatt range. Such projects are already being successfully implemented in Europe, South Korea and the U.S., for example, and are proving their economic viability. In South Korea, the world's so far largest storage system project for 200 megawatts of reserve power has just been built using SMA technology.
What are you expecting in the years to come, how will the storage system market develop globally?
Sam Wilkinson: At IHS, we are predicting storage system prices to continue falling and the installed base to grow considerably – from its current level of just over one gigawatt to over 15 gigawatts in 2020. In the short-term the U.S., Japan and South Korea will remain the largest markets. A stable market for domestic storage systems has already established itself in Germany, but the next few years will definitely see some activity in the field of large-scale storage systems as well. Significant projects have already been announced. We believe there to be considerable potential for domestic storage systems in Australia and Great Britain, too. This means that the coming years will definitely be exciting years, and new market participants and technologies will ensure even more surprises.
Thank you very much for the interview.
Sam Wilkinson
Sam Wilkinson has been monitoring the photovoltaic markets for IHS, one of the world's leading analysis companies, for seven years. He initially focused on inverters and modules, before setting up the research team for energy storage, which he still heads today. He is fascinated in particular by the rapid developments and changes taking place on the market and in the industry.
Dr. Aleksandra-Sasa Bukvić-Schäfer
While studying for a degree in electrical engineering in the mid-1990s, Aleksandra-Sasa Bukvić-Schäfer first came into contact with the subject of renewable energies – and knew straight away that she did not want to work in any other industry. After conducting research on this subject at the University of Kassel and the Fraunhofer Institute for Wind Energy and Energy System Technology, she joined SMA in 2010 as a senior expert engineer for storage technologies.

https://www.sma-sunny.com/wp-content/uploads/2016/05/newsletter_kv_sasa-1.jpg
305
600
Susanne Henkel
/wp-content/themes/enfold-child/images/SMA-LOGO-Color_s-1.png
Susanne Henkel
2016-05-24 13:15:32
2017-12-13 16:13:36
Gamechanger: Storage systems are revolutionizing the energy landscape