Fuel Save Controller Wins Prestigious Middle East Electricity Award 2017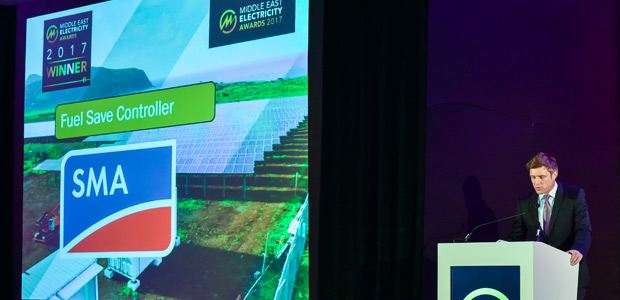 It was great to win the Middle East Electricity Award in 2015 for the "Smart Solar Project of the Year" (we reported it here). Now, two years later, the SMA Fuel Save Controller 2.0 is once again winner of the Middle East Electricity award. This time we won "Smart Product of the Year" – a great reward for our continuous efforts to find smart solutions to meet our customers' needs.
Read more about what convinced the jury in this article…
To participate in the award, the Fuel Save Controller had to qualify in the following categories:
Market fit
Technical Excellence and Quality
Price / Performance value
Customer Service and After Sales Support
Energy Efficiency and Environmental Impact
The Fuel Save Controller facilitates high solar shares in diesel-based micro-grids thereby saving diesel and money easily, flexibly and safely.
Putting solar power into diesel-based grids is easy, but maximizing the solar share is a real challenge. To save on diesel consumption, diesel has to be substituted by other energy sources. Solar energy is a cheap energy source, but without intelligent system control it is hard to reach high solar shares within diesel grids. Uncontrolled solar energy feeding into a diesel grid can, even with a small solar share, lower the diesel workload to a disadvantageous level in solar peak times causing inefficient operation of the diesel gensets, more frequent maintenance cycles and damage to the equipment. If too much solar generation capacity is installed, reverse power into the generator is possible which can cause a blackout in the best case and equipment destruction in the worst case.
The Fuel Save Controller enables high solar shares by controlling the solar inverters' power output and battery storage (optional) in a way that high solar shares of up to 90% of the load can be reached without negatively affecting grid stability or equipment health.
The Fuel Save Controller provides flexible means to measure the system's power sources such as solar, generators and loads – flexible in terms of the number of measurement points and flexible in terms of the measurement location due to remote measurement units (Data Acquisition Boxes) that can be located up to 20 kilometers away from the Fuel Save Controller itself. When measurement is not applicable or too expensive the Fuel Save Controller can calculate points in the grid deriving from known measurements. This way, the Fuel Save Controller can be easily integrated in nearly all diesel-based grids right out of the box. It is able to integrate photovoltaics of any size up to 50 MW and is also able to integrate battery storage into the diesel grid to reduce the spinning reserve and shift energy.
The Fuel Save Controller optimizes power flows within the grid. And while optimization aims to achieve the highest possible solar share, the Fuel Save Controller puts grid stability first. It knows the limitations and constraints of the System so it always operates safely while also achieving maximum savings.
All functions are tested extensively in as early as the development stage. Additionally each software release is tested under real conditions in SMA's hybrid power systems test facility, which tests with real power flows of up to 5 MW. The Fuel Save Controller has a proven track record of safe operation in more than 120 plants worldwide.
While the control functions within the Fuel Save Controller are complex, and weather as well as loads can change grid conditions in seconds, the Fuel Save Controller is exceptionally easy to operate as it, once set up, operates on its own.
Technical excellence and quality
The Fuel Save Controller is both easy to use and yet still highly configurable to fit various needs on-site. During commissioning, the Fuel Save Controller can be configured in a very detailed way. Once set up appropriately to the individual plant's needs, the Fuel Save Controller works on its own to ensure reliable system operation.
To cover a maximum range of diesel grids, the Fuel Save Controller supports manual genset operation and automatic genset controllers of different brands (currently Woodward, DSE, DEIF, ComAp).
The Fuel Save Controller monitors which gensets are running and ensures that the solar power does not reduce the load that the gensets see below a settable minimum power. The Fuel Save Controller is also able to guess the required spinning reserve and communicates it to a genset controller which automatically takes care of sufficient genset power availability to cover fluctuations.
With the Q@Night functionality, battery systems as well as photovoltaic inverters are able to provide reactive power to optimize genset efficiency. This can be done both during the day and at night, and is controlled by the Fuel Save Controller to guarantee the generators run under optimal conditions.
For maximum savings, the Fuel Save Controller also coordinates battery storage in the diesel grid. In the short term, the battery is controlled to smooth out load and solar spikes at the gensets by reducing the ramps the gensets see. In the long term, energy is taken when solar power has to be reduced, and shifted into hours where no solar power is available.
For stable grid operation, the share of solar inverters compared to the nominal power of the active gensets should not be too high. The Fuel Save Controller intelligently manages this by turning off solar inverters that are not needed. Thereby it also takes the operation ours into account to keep the operation hours of the solar inverters equalized.
The Fuel Save Controller works in island grids and when connected to a larger grid. There are different functions that allow power output limitation to a larger grid or even prevent feeding into that grid completely.
For small plants and local operators, the Fuel Save Controller provides a local web based user interface that shows system status and energy flows.
For more sophisticated plant monitoring including for a multitude of plants, the Fuel Save Controller provides a configurable SCADA interface that is able to provide aggregated data of the plant as a whole, but also allows to reach down to each single connected device.
The Fuel Save Controller in M- and L-Version provides a VPN connection between SMA Service and the plant, so that in case of a problem, reaction times are the shortest possible.
Price / performance value
Up to 20% of solar power (proportionately to used genset power) in a diesel hybrid system can be integrated directly without a system controller. If more than 20% shall be reached, the SMA Fuel Save Controller is needed to protect the gensets and allows stable operation even with higher solar shares. Without storage, a solar share of 60%-70% can be reached with a Fuel Save Controller, depending on the genset characteristics in use. With storage, a solar power share of 90% and more over multiple hours on each sunny day is possible.
The financial benefits depend on the genset power, the load data and the fuel costs.
For the most part, the best technical and economical solar share is approximately 60%. If fuel costs are high, it makes economical sense to integrate even more solar power into diesel grids.
To economically simulate a Fuel Save Solution, the online tool SMA Sunny Design can be used. It is free of charge and available at http://www.sunnydesignweb.com. When simulating your system, all relevant technical and efficiency data for the diesel hybrid system is considered and a detailed cashflow analysis clearly shows the financial benefits the sun has in saving fuel. Each system has unique characteristics, and Sunny Design makes it possible for you to easily determine the profitability of solar and storage for a diesel grid.
The Fuel Save Controller is available in different models to perfectly fit each plant. It is available in S-version (up to 500 kWp), M-version (up to 1000 kWp) and L-version (up to 5000 kWp). If special requirements apply that are not covered by S / M / L variants, the Fuel Save Controller is also available as a customized version when customer-specific development is ordered. The price of the Fuel Save Controller varies depending on the number of measurement points, PV size, distances and special requirements.
Each Fuel Save Controller in M- and L-versions are upgradable to comply with changes in requirements such as increase of load and genset power, public grid connection or storage integration.
The price for systems with a PV size ranging between 500 kWp and 1000 kWp is €10 to €20 per kWp, which is in addition to the PV system costs.
To design a Fuel Save Solution perfectly fitted to each diesel grid, SMA has a team of experts dedicated to planning solar hybrid plants and subsidiaries in 20 countries for sales and service.
The Fuel Save Controller is built as one cabinet that fits most plant configurations. It is well documented and easy to connect and commission – in fact, it's so easy that the SMA Solar Academy offers commissioning trainings so customers can learn to do the commissioning themselves.
Customer service and after care support
With subsidiaries in 20 countries, SMA has experienced field engineers in subsidiaries all over the world. They help our customers get their solar diesel hybrid systems up and running quickly. They also support should problems occur. With the remote service function of the Fuel Save Controller, the Service team is immediately able to see the system's performance remotely, without having to travel to the location creating the fastest possible reaction time in analysing errors or system failures to minimize downtimes.
The Fuel Save Controller records system performance data which can be used after several months to optimize a plant's performance. Parameter optimizations as well as recommendations for adding solar or storage can be analyzed to maximize profitability.
To make the best use of the Fuel Save Controller, the SMA Solar Academy offers a training program for commissioning engineers.
Energy efficiency and environmental impact
The Fuel Save Controller makes it possible to substitute large amounts of diesel for solar power without impacting system stability. Not only are emissions from burning fuel in diesel gensets reduced, so are emissions that occur throughout the entire supply chain in extraction (gas flaring), refining (emissions on chemical cracking processes) as well as transport (leaks, spills on accident) and more.
Taking the entire diesel supply chain into account, it is much more than the gensets' emissions that are saved when diesel is substituted for solar energy.
More information

You can find all of our blog posts on the Fuel Save Solution here. It is a great source of information if you are interested in saving fuel or planning to integrate solar energy into your grid.

Do you have comments or questions? Great! Just use the comment field below. We look forward to receiving your comments and we will answer each question as best as we can.

You can find even more details on the Fuel Save Solution Product Website.

If you would like our experts to help you lay out your own Fuel Save Solution, just send us an email at FuelSaveSolution@sma.de
https://www.sma-sunny.com/wp-content/uploads/2017/03/MEEAward2017_SMASolar.jpg
300
620
Christian Höhle
/wp-content/themes/enfold-child/images/SMA-LOGO-Color_s-1.png
Christian Höhle
2017-03-02 15:14:40
2018-02-12 12:13:14
Fuel Save Controller Wins Prestigious Middle East Electricity Award 2017