From the Idea to the Implementation: The Sunny Boy Smart Energy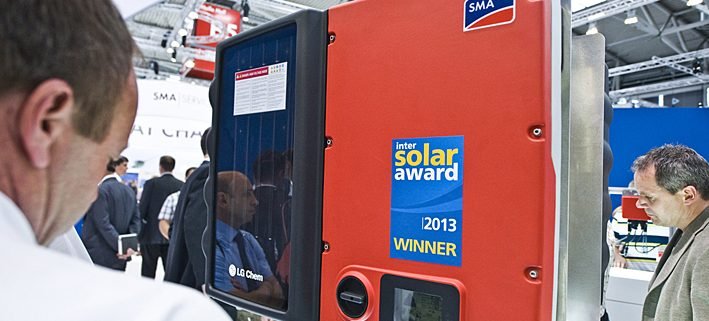 The first wall-mounted, mass-produced PV inverter with an integrated battery can increase the self-consumption of solar power in households by up to 50%. That's why the product received the Intersolar AWARD at Intersolar Europe 2013. Interview with Martin Rothert, Director of Product Management, and Volker Wachenfeld, Senior Vice President of Hybrid and Storage who had the idea to this innovation.
It was you who came up with the idea for the Sunny Boy Smart Energy, which recently received the Intersolar Award 2013. Can you explain in one sentence what is so special about this inverter?
Martin Rothert: Until now, there were two main issues that prevented the use of storage solutions for PV systems. These were high costs as well as complicated planning and/or installation. The Sunny Boy Smart Energy was able to fix both issues. This battery inverter's design and installation is no more complicated than a normal PV inverter's, and the added costs are currently being decreased as much as possible through consistent system optimization.
When and how did you come up with the idea for this product?
Martin Rothert: We had the idea when we were in a meeting with an automotive manufacturer. During the meeting, the costs for lithium-ion batteries in hybrid cars when ordered in large quantities were presented, and we took note because the batteries for the current hybrid cars are very similar to those we are using in the Sunny Boy Smart Energy.
Volker Wachenfeld: After the meeting, Martin and I developed the principal idea relatively quickly: To be able to overcome all issues that had prevented the introduction of parallel storage systems on the household level. Our goal was to make the investment costs for such a system manageable. The system should be cost-effective, should not create additional installation expenses, and the technicians should not have to deal with a completely 'new technology'. It seemed so simple that I walked into Günther Cramer's office [editor's comment: Former SMA Chairman of the Board] one night that same week, full of enthusiasm in order to convince him of my idea.
And how did he react?
Volker Wachenfeld: (Laughs) At first, he shot me down and argued that the Sunny Backup system in our product portfolio offered a solution and that others were already doing what I was proposing.     What he was referring to, however, was the battery's DC coupling, i.e. the implementation of the power electronics. Maybe I was too sure; maybe he was too tired; I don't know. No matter what I said, I was unable to convince him. So my weekend started pretty badly, but I kept on thinking about this idea.
Somehow, however, you must have been able to push the idea?
Volker Wachenfeld: I made a second attempt one evening at the beginning of the following week and talked to Roland Grebe [Editor's comment: SMA Chief Technical Officer]. I had him convinced about an hour later that this product could be a hit! At that moment, Günther Cramer passed by the office on his way home. Resigned to his fate, he let himself get involved in another discussion, and jointly we were able to get his okay.
Martin Rothert: The idea was only born back then because we had been intensively thinking about this issue for about a year and a half and because it was clear to me that storage can only operate in a cost-effective manner if the battery is relatively small.
What steps did the Smart Energy go through until it was ready for serial production?
Martin Rothert: Due to work that had been done previously, the approximate coordination between PV inverter electronics and battery size was determined relatively quickly. It was the necessary system optimization that took a long time. We made sure that the overall system consisting of the battery and the power electronics was very cost-effective. To do so, we had many meetings with different battery manufacturers.
Another important aspect was to use a very safe battery system to ensure that cost was not reduced at the expense of safety. We also thoroughly studied many different mechanical concepts until we found a concept that was very easy to install. So it did take some time, but we can see that it is paying off.
What were some of the challenges?
Martin Rothert: The biggest challenge from the start was to convince potential battery manufacturers of the idea. We owe a great thank you to our colleague Sasa, who successfully introduced the concept and the resulting market potential in many meetings primarily with Asian battery manufacturers. One of the biggest challenges was then to reach the cost objectives together with the battery manufacturer we had selected.
Is there a recipe for success when it comes to innovation?
Volker Wachenfeld: A recipe for success, probably not. But you could say that the market has to be ready for innovations based on disruptive technologies [Editor's comment: innovations that make other technologies obsolete]. Before implementing the product, it is critical that it has matured and will not fail. You hardly ever get a second shot at it. Innovations that solve a market need with available technologies are, for the most part, a question of speed. All market participants watch, analyze, and develop ideas. Whoever can implement a good idea the fastest will be able to benefit the most. Those who take too long and just talk should expect that others will get the same idea to the market before them. This is why at least the possibility of short decision-making paths is indispensable in the innovation process.
Volker and Martin, thank you very much for the interview.
https://www.sma-sunny.com/wp-content/uploads/2013/07/SunnyBoySmartEnergy-1.jpg
378
709
Leonie Blume
/wp-content/themes/enfold-child/images/SMA-LOGO-Color_s-1.png
Leonie Blume
2013-07-03 00:00:00
2017-12-13 16:00:50
From the Idea to the Implementation: The Sunny Boy Smart Energy