Field Service Experience: Fuel Save Controller 2.0 Commissioning in Palau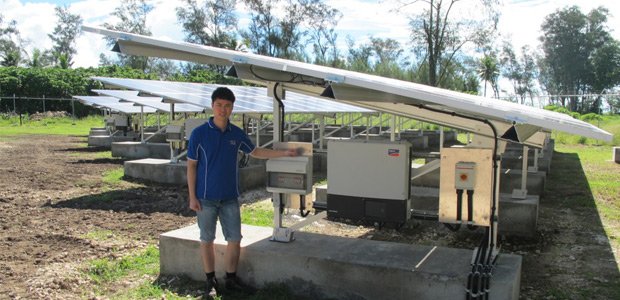 Palau is a beautiful island country located in the Pacific Ocean, with a population of approximately 21,000 people. The archipelago is well known for its pristine beaches, scuba-diving and snorkeling sites. SMA Australia's Service Engineer, Cyril Laugeon, shares his experience in commissioning the Fuel Save Controller (FSC) 2.0M in Palau.
FSC2.0M commissioning in Palau
Earlier this year, I assisted in the commissioning of the Fuel Save Controller 2.0M in Palau. I went with my colleague, Patty Wu, who was the head commissioner. We visited and assisted one of our industry partners on two of their projects on the islands of Angaur and Peleliu in the country of Palau.
The first system we visited was in Angaur, located an hour away from the main island of Koror by speedboat. The island currently has a micro-population of 50 people, as well as a monkey population that were brought along in World War II for mining excavation. The project at the Angaur Power Station consisted of replacing their existing generators, an old, noisy and imposing diesel generator dating from the 1950's, with two brand new Hatz Twin-pack generators (a total of 112kWp), whose controllers are compatible with the FSC2.0M. The PV plant is installed behind the diesel generator plant and boasts a 100kW PV array fitted with STP25000TLUS-10's to match the design. Given the FSC2.0M upgrade in the power station and the construction of a water treatment plant on the island, I believe it will not be long before further developments ensue to expand tourism and habitation on Angaur.
After two days of commissioning, we took a boat on to Peleliu, a popular destination with tourists wanting a laid-back island lifestyle (while it lasts!) and promises of good spots for snorkeling and diving.
The solar PV plant on Peleliu consists of a 164kW PV plant with 8x STP20000TLUS-10 inverters, which is fully integrated into a newly expanded 168kWp diesel generation using Hatz Twin-pack technology and an existing 275kW diesel generator as backup. The Peleliu plant varies from the one in Angaur by the addition of a DAQ module to provide PV plant data feedback via optical fiber to the Peleliu power station located a few kilometers away.
I found it quite impressive that the PV plant could feed most of the island's energy needs (depending on the time of the day),  without the need of energy storage. As a matter of fact, the added advantage of the new FSC2.0M is its ability to actively change the spinning reserve of the diesel generation plant, which enables a higher penetration of solar PV in the grid. Compatibility with this feature is expected to be expanded in the future beyond just Hatz controllers, in partnership with other diesel generator manufacturers.
A reflection on the commissioning
I was born and raised on an island country similar to Palau, and like most remote island countries, we rely heavily on diesel power generation and therefore on expensive imported fuels. The Sunny Island inverter and increasingly the Fuel Save Controller are effective technologies which enable remote islands to reduce or in some instances, eliminate an unsustainable reliance on imported fuel. The savings generated by these systems means more affordable power for the local communities which can in turn be invested in more fruitful development instead of maintenance. Affordable sustainable power has the potential to empower people to invest in their local economy, hence generating employment and promote population growth and retention. On a higher level, significant savings allow local leaders to make adjustments of budget to invest in other areas of development for the island or country.
I often lose sight of how much the technology I service and help commissioning on a daily basis makes a difference in people's lives. It is in system commissioning like the ones I went to in Palau that remind me that every solar and energy sustainable project we implement is part of the bigger picture to empower people in what they are called to do, especially in remote or isolated communities.
To that end, I look forward to seeing and participating in more of these systems in the far removed places of the world, and in the process, provide people with power that will benefit and enrich their lifestyle.
https://www.sma-sunny.com/wp-content/uploads/2016/09/Palau2.jpg
300
620
Lucas Unbehaun
/wp-content/themes/enfold-child/images/SMA-LOGO-Color_s-1.png
Lucas Unbehaun
2016-09-08 08:55:10
2017-12-13 13:27:42
Field Service Experience: Fuel Save Controller 2.0 Commissioning in Palau