Expert Tips for Internal Community Management
With Yammer, we have launched an enterprise social network (ESN) at SMA. This means that we use not only e-mail, chat functions and the telephone but also communities to discuss job-related issues within the company.
The tool offers huge potential but also a number of challenges. A workshop with our Yammer admins and community manager Katharina Krentz from Bosch identified additional potential for lively communities.
Tips for Internal Communication by Katharina Krentz (Bosch)
Why does SMA need an enterprise social network?
We work in a global organization with highly specialized, functional units. Organizational, physical and time boundaries often make it difficult for employees to share knowledge and talk about their activities. "If the company X only knew what it knows" applies to us, too. The ability to share experience and knowledge quickly and effectively is vital for helping us respond to the challenges of today and tomorrow. This is reflected in the term "community-based collaboration."
Why is Yammer so good for your organization? Explainer Video
How did we approach this?
The first step was to activate Yammer for everyone. A core group of enthusiasts quickly formed around our Office 365 team and busily set up topic-specific groups and communities. We intentionally promoted the idea of self-motivation as a way of identifying the eager "early movers," which meant that we very quickly had lots of highly active groups.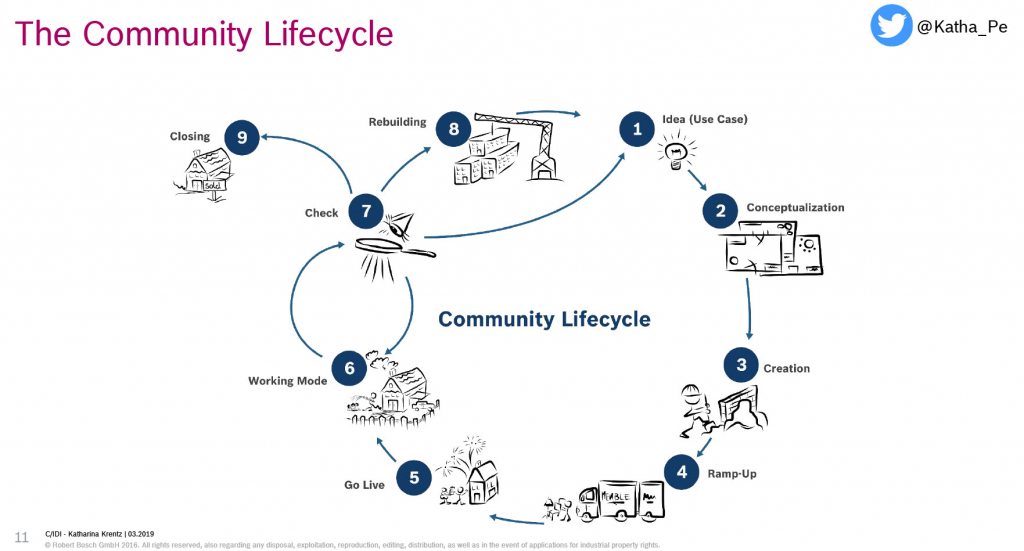 What have we learned?
Although many employees are experienced users of Facebook and other social media, this does not automatically mean that an internal community can operate by itself. On the contrary, to bring communities to life especially at an internal level, employees need time and encouragement and to see others positively embodying a community spirit.
In this regard, we benefited from lots of creative input in a workshop with Katharina Krentz, a community manager from Bosch:
The purpose of a community can be more varied than we thought. Communities of Practice (CoP), which promote open dialogue on specific topics and fields of work, are certainly the most common, but we can also create Yammer groups that act more like information channels. The different groups require different forms of community management, which is why we community managers have to clearly define the purpose of a community in advance and know the rules and frameworks with which we can provide support.
And we community managers also have to communicate among ourselves so that we can help each other and jointly manage the diverse roles and challenges. After all, we are ultimately the role models for community-based collaboration.
Summary
We are proud of our Yammer network and all the lively groups that have found a home here. Thanks to Katharina, we will work with even greater vigor and focus on filling Yammer with lively and diverse communities and help ensure that we SMA employees can work together and learn from each other across all boundaries.
Many thanks to Katharina for the enlightening and entertaining day.
https://www.sma-sunny.com/wp-content/uploads/2019/06/KatharinaKrentz_digiTALK-e1559901251293.jpg
386
800
Leonie Blume
/wp-content/themes/enfold-child/images/SMA-LOGO-Color_s-1.png
Leonie Blume
2019-06-06 16:39:38
2019-07-18 11:56:07
Expert Tips for Internal Community Management