Earthbook – The earth goes online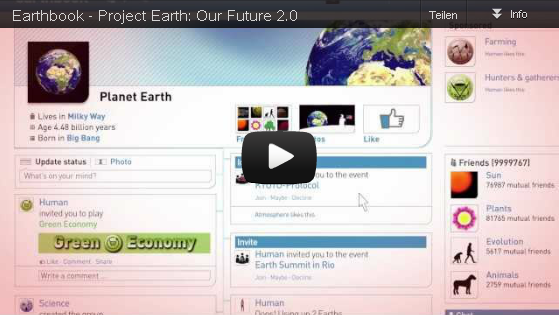 Earthbook - Project Earth: Our Future 2.0
How can the controversial issues of global warming, environmental  and wildlife conservation and renewable energy come together in a balanced and meaningful fashion?  The answer is in the video "Earthbook", which was made for "Project EARTH: Our Future" on behalf of the Federal Ministry for Education and Research (BMBF) and just in time for the Science Year 2012.
In cooperation with the Climate Media Factory an animated short film was created using the language and aesthetics of social networks to provide background knowledge about climate change, its consequences and other issues of the Year of Science.  The plot is based on a thought experiment: What would planet earth post on its profile about human kind, if it could?
A time lapse shows how the earth develops a virtual relationship with humans and raises the question of whether earth wants to be "friends" with a species that exploits its natural resources.  Only with the threatened termination of the internet friendship does "man" begin to rethink its behavior. The German version of the short film has already had more than 280,000 views on Youtube and 99.9 percent liked it since the upload on June 6th , 2012 (English version > 30.000 views; 99.9 %).
"The film makes people rethink their everyday cultural practice. In this way the film aims at raising awareness about the importance of the careful use of available resources"
Ephraim Broschkowski, producer at Climate Media Factory
"'Earthbook'  puts the man-made climate change in a new and unusual perspective."
Jürgen Kropp, PIK project manager of CMF
While the conclusion of "Earthbook" certainly triggers powerful discussions, the project as a whole has achieved one major accomplishment – it makes us think.
More links:
http://en.zukunftsprojekt-erde.de/
www.facebook.com/wissenschaftsjahr
www.youtube.com/user/wissenschaftsjahr
www.climatemediafactory.de
The Science Years is an initiative of the Federal Ministry of Education and Research (BMBF) in cooperation with the Science in Dialogue (WiD).  Since 2000, they have been promoting the exchange between research and the public.  In Science Year 2012, "Project EARTH: Our Future," three key questions are addressed: How do we want to live?  How can we be economical?  And how can we protect our environment?  The Year of Science 2012 promotes the public debate about the goals, challenges and action areas of a sustainable development.
https://www.sma-sunny.com/wp-content/uploads/2012/07/earthbook.png
315
559
Gerrit Naß
/wp-content/themes/enfold-child/images/SMA-LOGO-Color_s-1.png
Gerrit Naß
2012-07-30 14:35:43
2012-07-30 14:35:43
Earthbook - The earth goes online