Connecting Intelligent Household Appliances for Optimum Self-Consumption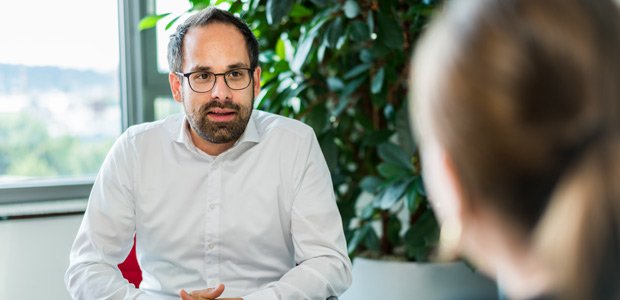 As part of the international EEBUS Initiative, reputable manufacturers have joined forces to develop a uniform communication standard for all household electrical devices so that, in the future, energy consumption can be coordinated in an environmentally friendly and cost-effective manner. We have spoken to Frank Blessing, who sits on the board of this initiative, about the successes and challenges as well as what drives him personally to get engaged with this issue.
The goal of the EEBUS initiative is to develop a uniform communication standard for energy. How important it is to get all the players around the same table? 
When it comes to introducing new communication standards, partners are essential because overarching content and working applications can only be defined if all the parties involved work together. A standard cannot work without this cooperation. The EEBUS initiative offers companies the possibility of networking and exchanging ideas. Particularly in the context of the networking of intelligent appliances – both producers and consumers – this is becoming increasingly important. Leading companies in the energy industry have recognized this and are using networking to develop new application scenarios. They understand how important it is to work together so that they can offer their customers interesting, cross-industry solutions.
What can you say about the current status?
Especially in the past two years, we have seen great progress and achieved a number of milestones as pioneers in solutions that connect electricity, heat and transport. The German Association of the Automotive Industry (VDA) has joined the EEBUS initiative and the first Plugfest for the integration of electric vehicles was a success. The leading manufacturers of heating systems, including Vaillant, Viessmann and Wolf Heiztechnik are also working intensively on implementing heating applications with the EEBUS standard and are already nearing production launches. Furthermore, together with SMA, BSH has created the first application for connecting household appliances (washing machines) and put it into production.
These examples show that EEBUS is no longer just a theory – it is now ready for the market. The short implementation periods for new applications are fantastic and the great cooperation between the companies involved in the EEBUS initiative is to thank for this.
What comes next? 
For 2017, the focus is on the integration of heating systems, such as heat pumps, in intelligent energy management. By the end of the year, it is expected that the first series production systems from various manufacturers will be able to communicate via EEBUS and be considered, for example, for the optimization of self-consumption. This will be followed by applications for the integration of electric vehicles in the utility grid. With regard to securing grid stability, the promotion of electric vehicles will involve great challenges, but it will also bring about opportunities and added value.
How is SMA contributing? 
As a founding member, SMA is a major driver of applications in the field of intelligent energy management in EEBUS and is involved in all the applications mentioned above with regard to energy management. With Sunny Home Manager 2.0 and the SMA Data Manager M, SMA has demonstrated that solutions for connecting the electricity, heat and transport sectors are already entering the market. The standardized integration of electric vehicles in energy management is a major success in the promotion and acceptance of e-mobility and a decisive step toward an all-electric society.
Which application are you personally most excited about?
Personally, I find the thought very exciting of, in the future, being able to use the energy from my electric car bidirectionally, to open up a whole host of new applications. Surplus energy from the utility grid can then, for example, be buffered in mobile storage systems and short-term energy demand can be covered by precisely these storage systems. Strictly speaking, we will not just be talking about individual applications in the future. With the trend toward an all-electric society, there is an increasing focus on interconnecting all generators and consumers, giving rise to an entire ecosystem.
Many thanks for this interview, Frank.
Profile

Frank Blessing is Senior Business Development Manager Energy Services at SMA. Since May 2017, he has been a member of the managemnt board of the EEBUS initiative.
https://www.sma-sunny.com/wp-content/uploads/2017/07/eebus-vorsitzender-frank-blessing-sma-1.jpg
300
620
Leonie Blume
/wp-content/themes/enfold-child/images/SMA-LOGO-Color_s-1.png
Leonie Blume
2017-07-27 11:10:04
2018-03-23 08:29:47
Connecting Intelligent Household Appliances for Optimum Self-Consumption