Bula! [Fijian for "Hello"]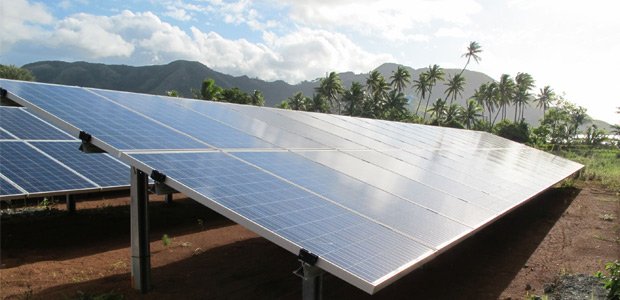 When you think of Fiji, you first think of vacation, wonderful beaches with palms and crystal clear water with perfect spots for scuba diving. We also thought of energy: Energy that could help build a more ecological electrical power supply. The existing power supply on the three separate islands of Kadavu, Lakeda and Rotuma around the Fijian mainland had been fully based on diesel generators. Now the SMA Fuel Save Controller 2.0 is helping to integrate solar energy into the power grid. That guarantees more sustainability on these islands.
Fiji means you are far away from modern life, that you can really enjoy nature. Kadavu for example is the biggest of the three called Kadavu Island, and the fourth largest of the Fiji Islands and well known among divers for its Great Astrolabe Reef. Lakeba is the hereditary seat of the Tui Nayau (Chief of Lau) and is therefore the most important island in southern Lau. It is a circular volcanic island with an area of 54-square kilometers and is home to about 2,000 people. Far-flung and isolated, the 43-square kilometer volcanic island of Rotuma drifts in the Pacific 460 km northwest of Viti Levu, which is the largest island in the Republic of Fiji and the site of the nation's capital, Suva. The vast distance between its tiny frame and the mainland is what has allowed the Rotumans to develop such an inimitable culture.
The Sun Saves Fuel
In addition to its spectacular palm-fringed beaches, fish-packed reefs and smiling locals, electricity and water is quite limited, lots of bugs and only cold showers. With costs around $2/kWh – mainly for transport cost – it is very expensive for the Fiji government to generate electricity on these islands. And this type of power supply totally conflicts with the environmentally friendly spirit of the islands. Noisy and pollutive diesel generators are used to supply the islands with electricity (it made so much noise and smoke that we named it "The Destroyer").
In October 2015, we arrived on Fiji to commission the first systems with the SMA Fuel Save Controller 2.0 (FSC). We received a wonderful welcome – Fijians love to sing. In fact, at the airport arrival terminal they have a band that sings and plays the guitar the entire day. Even in their spare time they often go to church to sing.
As there were no big resorts or fancy restaurants on the island, we stayed in private homes. The locals are extremely friendly and always invited us over for food and drinks with the offer to take us for a tour around the island. Fresh fish, home grown paw-paw, coconut water and variety of roots, which are very traditional Fijian food, are served at almost every meal. We also had a chance to try "Kava" which is a drink made from the roots of a plant that has sedative and anesthetic properties. It definitely helped us sleep better that night.
For the commissioning of the new FSC we stayed in close contact to our development team in Germany. A 12 hour time difference and the weekends were a challenge for everyone involved, but eventually we achieved the result we were after, which was setting up the FSC so it effectively controlled the system to maximize PV injection and reduce diesel consumption.
Prepared for Future Expansion
The new hybrid system will reduce electricity costs by saving fuel and will also help minimize pollution. Although consumption on Kadavu is very low, ranging from 30–80 kWp, they still decided to install a 200 kW solar plant. Even on cloudy days the PV can make the maximum PV penetration to the Hybrid system. However, the main reason for the system design used is to be able to expand loads in future.
Overall, it was a really unique and awesome experience to visit these Pacific islands and experience their culture. We enjoyed our stay in Fiji very much.
Vinaka! (Thank you in Fijian)
Technical data
Kadavu
10 x Sunny Tripower 20000TLEE-10
Fuel Save Controller 2.0-M
4 x Twinpack diesel gensets from Hatz
easYgen 3000 genset controllers from Woodward
Rotuma and Lakeba
6 x Sunny Tripower 20000TLEE-10
Fuel Save Controller 2.0-M
3 x Twinpack diesel gensets from Hatz
easYgen 3000 genset controllers from Woodward
https://www.sma-sunny.com/wp-content/uploads/2016/01/SMA_solarpower_Kadavu_Fiji-1.jpg
300
620
Anke Baars
/wp-content/themes/enfold-child/images/SMA-LOGO-Color_s-1.png
Anke Baars
2016-01-12 11:21:32
2017-12-13 16:11:24
Bula! [Fijian for "Hello"]