At Home in the Desert: Megawatt-Class PV Systems Supply Namibia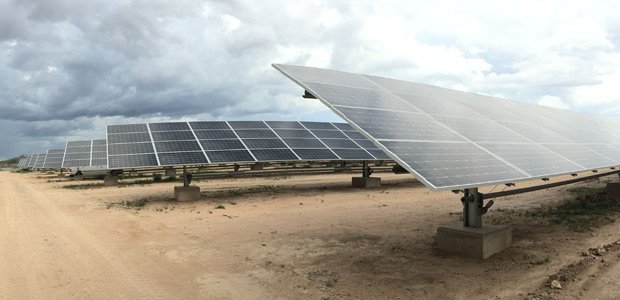 Swiss company HopSol built the third largest PV farm in Namibia and connected it to the utility grid in just two years—with the help of SMA inverter technology and my colleague Manuel März. He told me what mining bees have to do with PV farms and the possibilities that this, at first glance rather inhospitable, country offers.
Namibia is, in many ways, something special. A wealth of natural resources and sunshine, an unstable public electricity supply and there is plenty of space—this combination makes Namibia an attractive location for large PV systems. The country is situated in southern Africa and is bordered by the Atlantic Ocean. However, the same stretch of coastline is taken up by the world's oldest Namib desert. And with temperatures of over 50°C during the day and below 0°C at night, it is among the hottest and least inviting places imaginable.
"I was fascinated by the variety of the country," said my colleague Manuel März, who was there in the spring. "There are as many giraffes as we have fallow deer. And some unique species, which can only be found there, live in the desert."
Background Namibia

The black rhinoceros defies the sand with extra-large feet and the desert elephant quenches its thirst by tracking down underground watercourses. Also unique to the area are: the gemsbok, which meet its need for fluids from solid foods alone; the Namib sand gecko, which does not burn its fan-shaped feet even in 70°C heat; and the welwitschia plant, which was named after its discoverer Friedrich Welwitsch, only produces a single pair of foliage leaves, and can live for up to 2,000 years. The welwitschia and gemsbok adorn the Namibian coat of arms.
Of course, Manuel wasn't on safari in Namibia. He had a different mission: He was helping install a megawatt-class PV farm in Karibib, in the western part of the country. The small area is known for its pure black marble, which it exports around the world.

PV Power Plants Secure Electricity Supply
For Swiss solar company, HopSol AG, it was clear early on that a second look at this unique country was definitely worthwhile. For seven years, it has operated a subsidiary company with HopSol Africa in the capital city of Windhoek. The Swiss company has already built and commissioned three megawatt parks each with 5 MW of power within two years. HopSol's activities as an independent power producer (IPP) include selling electric current to the national power company NamPower and regional electric utility companies.
After Otjiwarongo in November 2015 and Otjozondjupa in June 2016, came the park in Karibib in March 2017. The 5-MW PV farm with 19,200 monocrystalline modules and 94 Sunny Tripower 60 inverters is connected to the utility grid and is expected to produce around 13,600,000 kWh of solar power for 3,600 households annually.
Robert Hopperdietzel, managing director of HopSol, shared his experience: "In Namibia, we are dealing with unique ambient conditions. The solar irradiation is very high so it is extremely hot and dry but can also sometimes rain heavily. We built the PV farm in heat of 50°C in the shade. All of a sudden, there was a heavy downpour, ruining all of the digging that had been done. That's why for the inverters, we relied on SMA devices with high levels of efficiency. We also ran the modules on two-wheel trackers in the direction of the sun, to increase the energy yield by another 25 percent."
The Sunny Tripower 60 combines the advantages of a decentralized PV system layout with those of a central inverter concept. This ensures high performance while also guaranteeing maximum planning flexibility. The SMA Inverter Manager is both the communications component and the interface for controlling the entire system, and handles all the important inverter and system management functions. "Against all odds, we completed the entire PV farm in just 12 weeks and even commissioned the system a month ahead of schedule," said Hopperdietzel.
All in One With the Medium Voltage Power Station
The only drawback is that the inverters require a separate protective cover. Because the modules follow the sun using the tracker system, the inverters cannot even be installed under the module array as normally happens. There is another reason too, caused by the flora and fauna: "Mining bees and sand wasps here would colonize the inverters in a flash and clog the ventilation with their nests," explained März. "As the operator, we want to prevent this, of course. Therefore, the current transformers, including the medium-voltage block, are well protected in a corrugated-iron hut with finely woven screen doors in front of the windows."
For future projects, Hopperdietzel can also imagine reverting to SMA's central inverters. Here, the SMA medium-voltage power station offers everything in one compact enclosure—there isn't anything better. The storage version, Sunny Central Storage, is also becoming more and more of a topic at HopSol. "Then the energy supply would also be even more reliable in cloud coverage, and the general public could even continue using the solar power at night," said März. A reliable electricity supply is an important step in the country's economic development.
Cost-Effective Solar Power Opens Up New Opportunities
Namibia's economy is shaped by agriculture, tourism and fishing, as well as the mining of natural resources such as diamonds, uranium, gold, silver and copper. Being largely desert, as of mid-2016, the country had a population of approximately 2.5 million which equates to only 2.7 residents per square kilometer, making it one of the most sparsely populated countries in the world. The world's average population density is 45 people per km2. To make a comparison, in the capital city of Windhoek there are 63 residents per km2, in Germany there are 230 residents per km2, the U.S. has 31 residents per km2, and South Africa, Namibia's neighbor, has 36 residents per km2. Accordingly, grid expansion for supplying electricity to the population is difficult.
The national power company, NamPower, operates its own power plants but their capacities are not enough to meet demand. Therefore, NamPower also imports electric current from the South African Power Pool, to which the neighboring countries of South Africa, Zambia, Mozambique and Zimbabwe belong. These countries are also struggling with increasing domestic electricity demand, which means that prices are rising quickly and shortages are more and more frequent. For this reason, Namibia's objective is to be able to meet demand on its own as much as possible by building up its capacities. And because the country is one of the sunniest regions in the world, with overall solar irradiation of more than 2,400 kWh/m2, solar energy already has lower generation costs here than conventional energy carriers.
PV power plants are an appealing solution to rising electricity costs and to increase Namibia`s electrification rate, which is still less than 50 percent. Systems with power of 500 kW to 5 MW are given particular support by the Renewable Feed-In Tariff (REFIT). As an IPP, the PV farm operator signed an electricity consumption agreement with NamPower and receives a feed-in tariff of up to 1.37 N$/kWh (equivalent to €0.10, as of April 24, 2017) for solar power. This is economically attractive for operators and helps Namibia close gaps in the electricity supply.
Mining Operations Save Fuel With SMA Fuel Save Solution

Incidentally, mining operations in remote regions can also benefit from solar energy. With a photovoltaic diesel hybrid system, they integrate cost-effective solar power into their energy supply and, in doing so, reduce electricity costs and CO2 emissions. The SMA Fuel Save Controller controls the PV system and diesel generators, and enables efficient system operation with maximum grid stability. Find out more here.
https://www.sma-sunny.com/wp-content/uploads/2017/05/Namibia2-1.jpg
300
620
Anke Baars
/wp-content/themes/enfold-child/images/SMA-LOGO-Color_s-1.png
Anke Baars
2017-05-10 17:07:13
2018-02-16 14:25:58
At Home in the Desert: Megawatt-Class PV Systems Supply Namibia