7 Reasons to Visit SMA at Intersolar 2015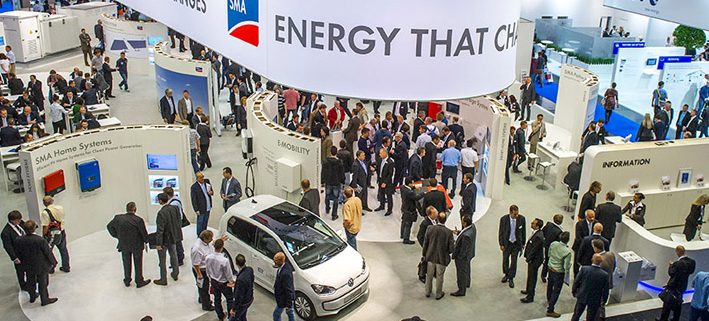 Crisis in the solar sector? No way! Once again, a visit to the SMA booth is well worth your while.  We'll be presenting exciting new products, from small applications to boost your self-consumption, to innovations for remote off-grid areas, to compact stations for PV farms. In this post, we've put together a few highlights for you.
Come to our booth:
1. To explore a shipping container packed full of energy performance
The SMA Medium-Voltage Power Station 2200/2500SC is the world's first compact station for PV power plants. Packed in a standard twenty-foot container, it produces more power than any other medium-voltage inverter solution. Simply set it up and connect, and PV power stations around the world can feed solar energy directly into the grid. You can also see exclusive product demonstrations live at our booth, three times a day. (June 10 at 2 p.m., 3 p.m., 4:30 p.m. / June 11 at 11 a.m., 2 p.m., 4 p.m. / June 12 at 11 a.m., 1 p.m., 3 p.m.)
2. To see how private self-consumption can be boosted even higher
The Sunny Boy 1.5/2.5 inverter, our innovative lightweight, is completely redesigned and the perfect fit for small, residential PV systems. It supports a high rate of self-consumption, and it's easy to use. Your smartphone simplifies integration into the home network. This goes hand in hand with the new options for energy management with SMA Smart Home.
For more information about the Sunny Boy 1.5/2.5, go to the blog or  website.
3. To discover how the SMA Smart Home gets connected to the world of Home Automation
At Intersolar, we are showcasing the new, internationally applicable remote controlled sockets from our cooperation partner Plugwise. In the same way like SMA Bluetooth RC sockets, Plugwise RC sockets (Circle) and RC switches (Stealth) are ready to be used for energy management. Via the tools and controls of the Dutch home automation expert Plugwise the whole range of control applications in illumination, safety and room temperature becomes available. We look forward to your feedback.
4. To learn how factories and villages are becoming energy-independent
The Multicluster technology comprising the Multicluster Box 12 and the Grid Connect Box 12 is now also suitable for operating in the utility grid. In Germany, it meets the applicable connection conditions for low-voltage grids (VDE-AR-N 4105). With the battery inverters Sunny Island 6.0H or 8.0H and the Grid Connect Box 12, commercial users such as supermarkets, farms and other businesses can install self-consumption and backup systems with a peak power of up to 100 kilowatts (kWp). These systems can also be connected to a diesel generator to bypass grid failure due to a discharged battery. For remote regions, powerful solar off-grid systems with an output of up to 138 kW can be built.
5. To meet the 2014 Intersolar Award winner, now in two new sizes
The SMA Fuel Save Controller M (FSC M) is an affordable complete solution for solar energy feed-in of up to 1 MW of PV power in PV/diesel hybrid systems. The FSC L solution allows for solar feed-in of up to 5 MW as well as optional storage integration. Customized solutions for systems requiring up to 50 MW of solar power are also possible. Industrial applications with limited or no access to the utility grid can obtain individual solutions for a reliable, resource-friendly and efficient energy supply.
6. To discover how SMA can provide global operations and maintenance service
With its Operations & Maintenance service offer, SMA provides global service in a comprehensive package and takes on complete technical operation of large-scale PV power plants. This includes continuous remote system monitoring, as well as additional services such as regular maintenance, thermography scans and vegetation and dirt control. SMA already performs operations and maintenance for PV power plants with a total capacity of over 1 GW worldwide.
SMA is a member of this blogger network, which will have a presence at Intersolar again this year. Chat with them about the energy transition and network with the Energy Bloggers at the Top 50 Solar booth B1.572.
Want to attend Intersolar and don't have a ticket yet?
It's easy to get a ticket for Intersolar. Simply send an email to SocialMedia@SMA.de. We'll send a complimentary ticket to the first 20 applicants.
We look forward to seeing you, answering your questions and hearing your ideas. You'll find us at the SMA booth B2.210 at Intersolar Munich.
Click here to view the official SMA press release
https://www.sma-sunny.com/wp-content/uploads/2015/05/Intersolar1-1.jpg
378
709
Dagmar Buth-Parvaresh
/wp-content/themes/enfold-child/images/SMA-LOGO-Color_s-1.png
Dagmar Buth-Parvaresh
2015-05-21 14:50:03
2015-05-21 14:50:03
7 Reasons to Visit SMA at Intersolar 2015