Free Module-Level Solar Monitoring with Sunny Portal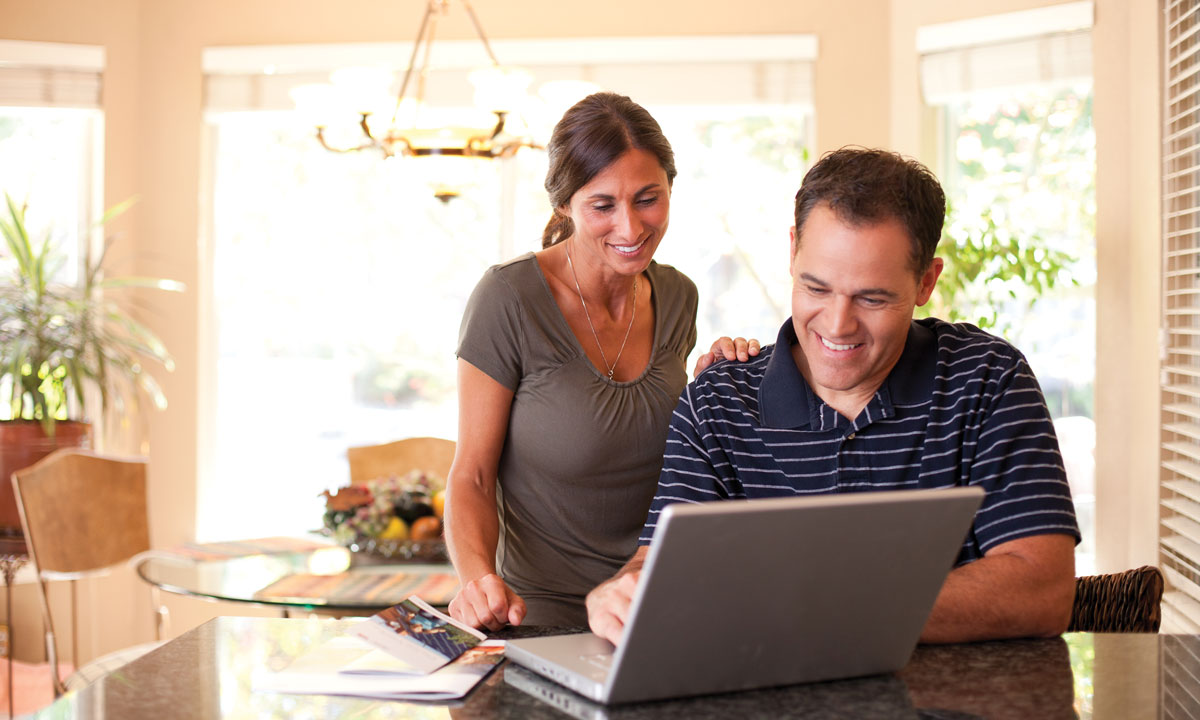 Micro inverter enthusiasts, now you can access your PV systems with the largest and most advanced solar monitoring online platform in the world! At the time of this post SMA's Sunny Portal was monitoring 129,762 PV systems, for a total solar energy production of 66.54 TWh! Here's a fun way to put that enormous number into perspective, 66.54 TWh, according to the US Environmental Protection Agency is equivalent to:
Providing power for 2,416,227 average American homes for an entire year
Removing CO2  emissions from 9,780,687  cars on the road
Carbon sequestered by 1,203,776,846 tree seedlings grown for 10 years
While others might claim to have the "world's" most advanced solar monitoring tool, SMA's numbers speak for themselves.  
Easy-to-Read Dashboard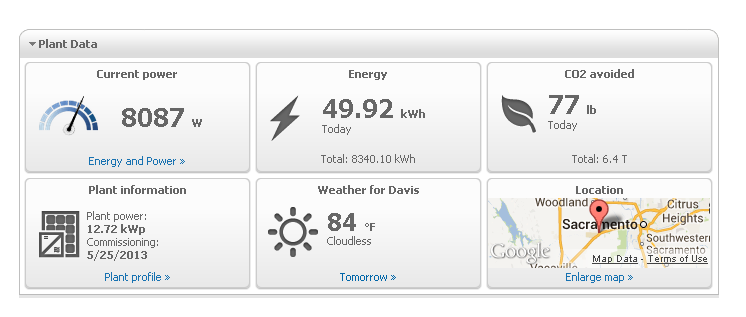 Data is quickly and easily accessed on Sunny Portal's Plant Data dashboard, which highlights critical information about the PV system. Some of this data includes:
Current Power
Daily and total energy produced
Daily and total amount of CO2  avoided
Plant profile information
Current weather conditions
Exact location of PV system
System Overview: Complete Plant
Located directly below the Plant Data dashboard, installers and homeowners can access performance data for the entire system or an individual module. Complete Plant reporting illustrates PV production by the hour, day, week, month, year or lifetime of the plant!
Let's review a breakdown of some of the key reporting functions:
Sample One:  For module-level information, users can click on an individual panel and detailed information for that specific module, inverter and communications is displayed. Some of this information includes system design details, module manufacturer, individual micro inverter serial number, and current inverter power. Solar professionals can now easily access important PV system information down to an individual module, without having to make a costly on-site visit.
Sample Two: Tabs along the top of the Complete Plant system overview allow installers and homeowners to see how the PV system is currently performing and provides production reports. For example, I chose to run a report for the entire month of August. First, I clicked the Month tab and then selected August 2013 from the dropdown menu located directly below. The report displayed PV production as a bar graph for the entire month, broken down by each day. Notice a slight dip in production on August 19. By simply clicking on the bar located above the number 19, I auto-generated a detailed daily report.
Sample Three: Highlighted in sample three is an easy to decipher graph that illustrates low PV production for August 19th during the early morning hours. Later, a spike in production happened just after noon. A quick Google search of Davis, Calif. weather revealed heavy morning fog was likely the culprit of the suspicious dip in production.
Access Data Anywhere
System performance reports can be accessed from any device 24/7 with Internet connection via Sunny Portal Mobile. Free smartphone apps are available for iPhone and Android operating systems, allowing for monitoring, managing and presenting PV systems anytime, and anywhere. Reporting alerts provide regular PV performance updates via e-mail to help ensure optimal production and performance. Pre-configured standard pages can be easily customized with individual information. Sunny Portal features almost infinite options for analyzing data and visualizing performance, whether you need a data table or a highly personalized diagram. With SMA's Sunny Portal, you'll know within minutes when your PV system is not performing or if there is a potential setback.
Want to learn more? Click here to view Solar Academy's Tech Tip video on module level monitoring. Visit www.SunnyPortal.com and try out SMA's exceptional monitoring and reporting features!
https://www.sma-sunny.com/wp-content/uploads/2013/09/ALP_110714_SMA-SPC3-256-2.jpg
720
1200
Melissa Womack
/wp-content/themes/enfold-child/images/SMA-LOGO-Color_s-1.png
Melissa Womack
2013-09-19 09:35:04
2021-01-04 09:28:22
Free Module-Level Solar Monitoring with Sunny Portal