The Oxford Ecohouse: From 1990s Solar Dream to Storage Generation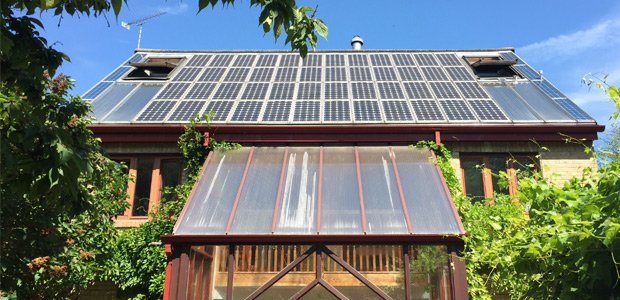 Sue Roaf is a solar pioneer. Despite facing opposition from the energy industry at the time and being told by the Government that it would never work "because there is not enough sunshine in Britain", she has the first grid connected roof integrated PV in the UK in 1995. She has been at the heart of the solar revolution over the last 20 years. In 2016, she decided to upgrade her PV-installation which still worked perfectly to include storage. We sat down with her to ask a few questions.

How was it to be part of the solar pioneers in 1995?
A lot of people told me it would never work here – but look at Britain now – nearly a million solar roofs out of 25 million homes and even the politicians now recognize that the best way to take people out of fuel poverty is to put the means of generating energy on their own roofs. I am very proud that Oxford has been at the heart of the solar revolution over the last 20 years.
Why did you choose SMA inverters?
I chose SMA originally for the inverter because my team – solar pioneering engineers in the UK all said they were the best. And they have proved to be fault free over the 21 years of operation.
Why did you choose to add storage?
The challenge is for all local and building level energy systems to become independent – and for me batteries are a no brainer.  I am retiring this year and what better way to spend my retirement pot than to make sure I will never in the future suffer from fuel poverty – not being able to cover my bills.  The PV roof and batteries will help me sleep at night in the future because I will be energy secure.
What is your first impression of the new system?
Amazing – I can't believe how well they are working. I just have to shift the loading of the electric bike to solar hours and my energy for home and transport will be solved – with clean, free renewable solar energy.
Plant information

Location: Oxford
Plant size: 4 kWp
Commissioning date: First installation in April 1995, upgrade with Sunny Boy Smart Energy in May 2016
Annual yield: 2200 kWh
Self-consumption rate: Was one third – now 90%
CO2 reduction: 1,200 kg per year
PV inverters: Sunny Boy replaced by a Sunny Boy 3600 Smart Energy
Other components: SMA Energy Meter, Sunny Home Manager
Panels: 585 x BP Saturn
Installer: Sims Solar (the first system was installed by Wind&Sun)
For more information about this project, please download our reference sheet.
https://www.sma-sunny.com/wp-content/uploads/2016/07/Oxford-Ecohouse.jpg
300
620
Dagmar Buth-Parvaresh
/wp-content/themes/enfold-child/images/SMA-LOGO-Color_s-1.png
Dagmar Buth-Parvaresh
2016-07-07 12:01:20
2016-07-07 12:01:20
The Oxford Ecohouse: From 1990s Solar Dream to Storage Generation