The New Sunny Portal App for Android Has Finally Arrived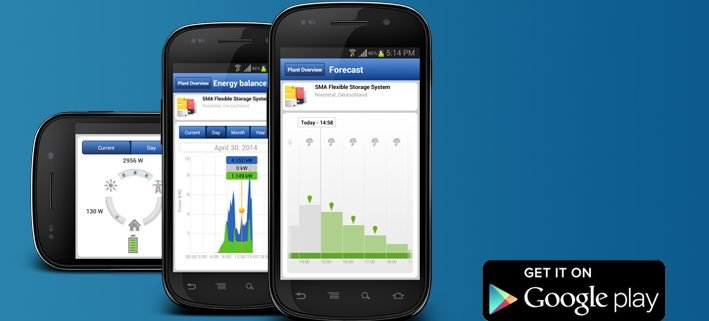 Let's start with the good news: After the release last year of the iOS app used for display live data in PV systems with the Sunny Home Manage, an Android app with the same functionality is now available as well.
In light of the rapidly growing use of the Android smartphone operating system, this step was something many owner-operators had been awaiting for quite some time. While four years ago only every one in five mobile telephones were operating with Android, less than two years later every second cell phone was equipped with the operating system. And today, it is estimated that three out of four smartphones operate with the Google platform.
Android app as good as the iOS version
In line with this trend, SMA is finally introducing the app for "non-iPhone users" to the market and into the Google Play store. This means that proud owners of a PV system with the Sunny Home Manager can view all live data and expanded energy management displays for the Sunny Home Manager on their smartphone.
The Android app has been available since April 30 and was updated to version 1.03.19.R on May 22. It offers exactly the same functionality as the iPhone app.
The most recent update fixed an error with display of currently generated PV power when no energy meter for PV production is available.
Expansion of charts displaying battery values
Developers announced an improvement immediately after this version was released: Calculation of consumption figures in systems with a battery differs from that in Sunny Portal. This means that the two Sunny Portal apps add daily consumption from purchased electricity to self-consumption, whereas daily consumption is displayed as the total of purchased electricity and internal power supply in Sunny Portal.
Currently, the apps are still missing the figures for battery charging and discharging, which enable correct calculation. For PV systems without a storage system, the figures for self-consumption and the internal power supply are naturally the same. However, there is a difference for systems with a storage system because the energy stored in the battery has not yet been consumed. Thus, the new presentation of these charts, including the figures for batteries, is being worked on. With the new release, the app will then also be able to display the missing figure for the internal power supply alongside the figures for battery charging and discharging.
Conclusion
Android users can now finally monitor their SMA Smart Home system even on the go, analyze all energy flows and manage household appliances. This makes the energy transition even more mobile.
Here you can find the Sunny Portal App for Anroid.
Further information
Sunny Portal – Professional PV System Monitoring, Management, and Presentation
SMA Smart Home on the Move—a New iOS App
https://www.sma-sunny.com/wp-content/uploads/2014/06/Sunny-Portal-Android-App_EN.jpg
378
709
Markus Ohlendorf
/wp-content/themes/enfold-child/images/SMA-LOGO-Color_s-1.png
Markus Ohlendorf
2014-06-05 09:10:37
2017-12-13 16:03:52
The New Sunny Portal App for Android Has Finally Arrived