SMA Smart Home on the Move – a New iOS App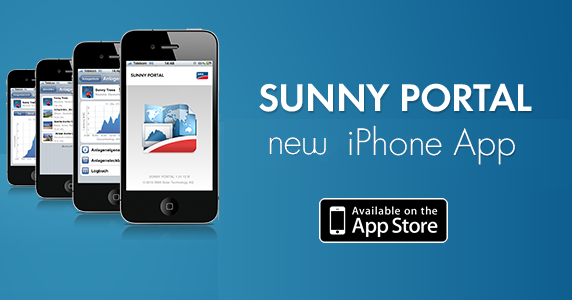 It's easy to be smart. Just combine the SMA Smart Home's intelligent energy management with the potential of an iPhone. This results in a handy solution for home energy management that can be used while on the go.
The new Sunny Portal app, version 1.06, uses Sunny Home Manager to bring live data from a PV system and expanded energy management displays to the iPhone. In addition, radio-controlled sockets can be operated easily via cell phone, which means that selected loads can be activated or deactivated from anywhere.
And that's not all: System operators can use their iPhones to look up their self-consumption, their self-consumption quota, the PV production forecast, and the estimated load – whenever and wherever they like. The update includes improvements and enhancements to intelligent energy management. Let's take a closer look at the update and its new features.
New features
Mobile PV system monitoring and increased self-consumption for PV systems with the Sunny Home Manager. The app also replicates the Sunny Portal's familiar display of the current status with live data.
The app displays total consumption, purchased electricity, self-consumption, PV production, grid feed-in, and the self-consumption quota.
It integrates the PV production forecast and the proposed actions.
 Mobile load control via SMA radio-controlled sockets
Additional new features
A variable system password protects against unauthorized access
Alignment information is displayed in the system profile (directional angle / tilt angle)
Optimized for iPhone 5 screen (4-inch Retina display)
Bug fixes
Q and A from the Community
1. When will the equivalent update for Android be released?
– The update for the Android app is in development, but we can't announce an exact release date at this time. It will integrate the Sunny Home Manager, similar to the iOS update.
2. Could the Sunny Portal app be updated to include the view and the operational status of the battery storage system?
– As part of our continual product improvements, we will most likely soon support a battery meter in the app. But we can't provide an exact date for this.
3. I had a question about the SMA app: Would it be possible to show the expected values here, like on the website? That would make the app almost perfect.
– Thanks for the encouragement. We always find it helpful. We have passed your suggestion along to our Product Management.
4. When will the Sunny Portal display the self-sufficiency quota?
– The self-sufficiency quota will be shown when a Sunny Island 6.0 H is operated in connection with a Sunny Home Manager. But we can't specify an exact date at this time. In addition, we are taking up the challenge of other possible configurations.
Basic App Functions
With your existing user data, you can access your systems, no matter where you are. If you don't have a Sunny Portal account yet, you can try out the app and online system monitoring using a demo account.
Access to the system's long-term energy data makes it possible to, for example, take a quick and easy reading of how much the system has produced today or in the last month.
System Logbook for Ensuring Yields
Installers and users with admin rights have access to an event logbook, which provides direct information everywhere if the PV system reports a system incident, for example. In such a case, it only takes a few taps to reach the system operator by phone to allow joint review of whether it is something as simple as a blown fuse or if a service call needs to be scheduled.
All important PV system data is visible at a single glance. The system can be easily presented anywhere you want. You can also add new or additional users to the Sunny Portal, so that friends or shareholders can view the system performance at any time.
Languages
Currently available languages are German, English, Italian, Spanish, French, Dutch, Portuguese, Greek and Czech.
System requirements: iOS 5.0 or higher. Compatible with iPhone, iPad, and iPod touch. This app is optimized for iPhone 5. No support is provided for iPhone 1, iPhone 3G, iPod touch 1, or iPod touch 2.
For more information, please visit the following links
https://www.sma-sunny.com/wp-content/uploads/2013/10/KV_iPhoneApp_de.png
300
572
Gerrit Naß
/wp-content/themes/enfold-child/images/SMA-LOGO-Color_s-1.png
Gerrit Naß
2013-10-25 14:57:47
2017-12-13 16:01:06
SMA Smart Home on the Move – a New iOS App